"You are a sad, strange little man and you have my pity," is the perfect comeback to just about anything.

Like any kid who grew up in the 90s, my brother and I spent a large portion of our time watching the shit out of Toy Story (1995). In fact, we recently watched it back in January for the first time in a while and oh wow, it totally holds up! As I was watching the movie again this week to take notes for my review, I was just as entertained and engaged as I was five short months ago. Of all the Pixar movies, Toy Story is perhaps the one with the most admiration and greatest longevity. Not surprising considering it's spawned three critically-acclaimed sequels. By the way, words cannot express how excited I am to see Toy Story 4 (2019) on the big screen next week. I'm not proud to admit this. but I'm not above pushing little kids out of the way to snag the perfect seat. Hey, I've been waiting nine years for this movie, I deserve it!
Toy Story focuses on a group of toys owned by a young boy named Andy who secretly come to life when he isn't around. The toys are led by Sheriff Woody, a pullstring cowboy doll who is Andy's favourite toy. When Andy receives a new toy for his birthday, the action-packed Buzz Lightyear, Woody begins to feel threatened that he may soon be replaced by a shinier and fancier toy.
Toy Story is genuinely iconic. Believe me, I don't throw that word around lightly. Beloved by children and adults alike, it's not often that a movie manages to capture the hearts of both audiences. Toy Story manages to do so in a way that is cinematic magic at its finest. I mean, is there a more lovable movie out there that packs the same emotional punch for its audience no matter the age? I can only think of two: Toy Story 2 (1999) and Toy Story 3 (2010). Maybe it's because we all relate to the joy of playing with toys we loved, and the hope that they loved us just as much. Come on. After seeing this movie, didn't we all secretly wish that our cherished toys would come to life while we weren't around?
Toy Story perfectly captures all of the joy, wonder and imagination that comes with being a kid without being overly mushy or juvenile. I've seen a lot of great animated movies but Toy Story was the first that I realized could be fun and silly while still possessing an emotional resonance. I love that the movie never sacrifices its wit or intelligence, and yet is still able to provide a level of entertainment that everyone can enjoy. Keeping a great pace, the movie is able to flawlessly shift from universal themes of love, abandonment, growth and envy to the wise-cracking comedic delight of Hamm and Mr. Potato Head. Sidenote, nothing makes me laugh harder than that shark pretending to be Woody.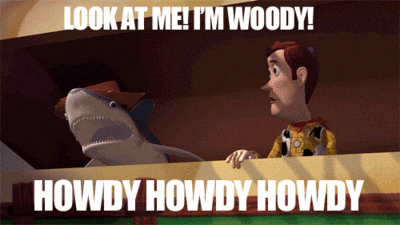 Which brings me to the actual toys in Toy Story. I'm not kidding when I say that there isn't one toy in this entire movie that I'm not 100 per cent obsessed with. It's hard to pick a favourite character because each one is so wonderfully written, fully-realized and perfectly cast. Hello, Don Rickles himself as Mr. Potato Head! Andy's ragtag group of toys are a memorable collection of side characters that act as delightful and often sardonic foils to everybody's favourite cowboy. Though of course, the stars of the movie are Woody and Buzz, voiced to perfection by Tom Hanks and Tim Allen respectively. Simply put, Hanks and Allen are phenomenal. I could listen to these two read the phone book as long as they did so in character.
Together their chemistry is unmatched and honestly, the only other voice acting duo I can think of that would even come close to being as cohesively complimentary would be Albert Brooks and Ellen DeGeneres in Finding Nemo (2003). Buzz's cool demeanor and delusions of grandeur coupled with Woody's frantic and neurotic paranoia is an absolute riot to watch. Witnessing the dynamic between two characters who couldn't be more different trying to work together is a piece of comedy that will forever keep a grin plastered on my face. If handled well that is. And boy, does Toy Story handle it well.
I've especially always had a soft spot for how Hanks performs as Woody. Hanks infuses the character with so much heart, charm and physical comedy that it's astonishing so much charisma can come just from his voice and the talents of the animators. Truly, Hanks' most animated role in every sense of the term. If Disney ever gets around to making a live-action version of Toy Story (and I hope to God they don't) there is not a single actor living today who can play the role like Hanks does.
Clocking in at a reasonable and extremely quick hour and 21 minutes, Toy Story is a marvel from start to finish. We're a bit spoiled with the amount of CGI-animated films that are released today, so you really have to give this movie props for holding up and looking as good as it does 24 years later. This was the very first computer-animated feature film after all! With its slick animation, imaginative world-building and emotional impact, it's easy to see how Toy Story has paved the way for other amazing animated movies such as The Lego Movie (2014), Inside Out (2015) and Zootopia (2016). By the way, you can check out my review for The Lego Movie here.
Could you imagine how shook Disney must have been when Pixar released this, its first ever feature film, to widespread critical and commercial success? Sure, Disney put an end to the competition by merging with Pixar, but still…SHOOK. One of the things I love most about Toy Story is that it's a movie that not only demands your attention, but one that you cant help but give it to give it to. Engaging, beautifully-animated, and filled with a plethora of clever jokes and sight gags, this is not a "background noise" movie. Though filled with action, suspense, and an electrifying finale that will make your heart soar, Toy Story never strays far from its central message: a heartfelt and touching story of friendship. Touching, heartfelt and because it bears repeating, freaking hilarious. My God, I'm so down for a Pixar short where Buzz acts as Mrs. Nesbitt for 17 minutes. Is that whole scene maybe the most underrated part of the entire movie? I think so.
Perfect and timeless, there will never be another movie quite as special as Toy Story. Except for the sequels of course. Which, I am totally on board with reviewing at any point in the future BTW. A true classic that will be loved to infinity and beyond, I have to thank Pixar for giving us Toy Story, Woody and Buzz. They'll always have a friend in me.
Do you love Toy Story as much as I do? Will you go see Toy Story 4?
Let me know in the comments or on social media!